I made these as a side dish for Pecan Crusted Catfish last week.
The beautiful thing about snap peas is that they taste great raw. So, only way to mess em up is to over cook them. Seriously, this is a 5 minute dish.
So...
1 TBS Canola Oil in a pan...
Add 2 TBS smashed minced Garlic
Saute for a few minutes until the oil gets fragrant.
Add almond slivers
and add the beans...
A little of that fancy pan flip maneuver you see on TV and 3 minutes later, they are done.
Just that fast. If they don't have a snap to their bite, you cooked them too long.
***************************************
And now it's time for another "Ad" for
eRecipeCards.com
. All of the software is coming together nearly perfectly. There have been a couple of small glitches (expected, it is a complicated, multi functioning site). Those glitches have or at the least are being addressed.
I have also heard from a couple of bloggers who have a different impression of the ultimate goal of
eRecipecards.com
. There are several sites that demand "show off" magazine photo quality photos.
eRecipeCards.com
is NOT that site. What I would like to highlight are home cooks, making the best meals and snacks for their families and friends. While beautiful photos should be a goal for us all, tasty dishes are the goal. Healthy food is the goal. And a variety of ways to cook the same ingredients is the goal.
Take today's post of mine (yes, I have submitted the post to
eRecipeCards.com

)
. I do not want this to be the only post on the site for snap peas. In a few weeks, I would like for someone to be able to go to the search function on the site, type in "Snap Peas" and see a dozen different ways to prepare. That will make the site useful. Same with Pork Loin, Sirloin, Caprice Salads or any of the thousands of recipes that are searched for everyday. Google says that 1% of the searches done daily are for recipes.
eRecipeCards.com
. will become the best resource to find recipe ideas on the internet.
Searchable Tags, as well as key words
And best of all is the commentary that goes along with the recipes that only food bloggers provide on a daily basis.
Remember,
eRecipeCards.com
. is not an internal site, meaning all clicks go to pages inside the site. When someone clicks on the title of the recipe, the page opens on YOUR site, not
eRecipeCards.com
. When someone clicks on the photo of the recipe,
the page opens on YOUR site, not
eRecipeCards.com
.
eRecipeCards.com
. drives traffic to your site. That's my job as a tool for bloggers. Driving new readers to your site is an important aspect of
eRecipeCards.com
. Of course, the quality of your writing and the quality of your recipes are what will keep them there. Lookie Loos can easily become regular readers.
The final issue I have heard from bloggers is the concern about copyright.
In fact, that has been the only reason a recipe has been rejected. The site is not meant to support bloggers who copy a photo from a magazine or book, copy word for word a recipe with no commentary.
BUT, if you actually cook the recipe, take and share an original photograph of the dish, provide commentary about what you liked, didn;t like, extra cooking tips that are not published with the magazine, you are now making that recipe your own. Certainly provide credit. My rule is that if I do not change anything, I proclaim the recipe "from the pages of..." and then provide the chefs name, a link, or at the least title of where the original came from. If I change a couple of ingredients, I still credit the original with an "inspired by...". As long as you are crediting the original, providing original photos and commentaries, Your blog post and recipes belong on
eRecipeCards.com
.
Please consider coming over and taking a look.
And please consider signing up for an account so you can take advantage of the FREE eRecipeBox function where you can save a recipe as a favorite and easily come back to make another day.
And please consider posting your recipes. You blog for a reason. Share your creations.
Said it before, will say it again, and now,
eRecipeCards.com
. has been created with the idea that
Food Bloggers are the best!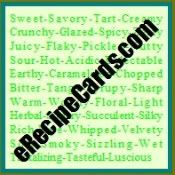 Click the logo, you will see what I mean...