Established in 1857, the farmer's market has been feeding fresh produce to the Kansas City area for over 150 years (and you thought we were just BBQ).
While of course, the produce is the main attraction, you can spy lots of fun things here. Like this display of lawn decorations.
Life is just a little more ... nostalgic here. No Wii or X-Box or high tch anything. But the kids can take a ride around the parking lot in the barrel train, pulled by John Deere Tractor.
But of course, the star of the day is the produce. All the "regulars" are there, onions, bell peppers, potatoes and corn.
Most of the vendors are the family of the farmers. How can you not buy something when the signs read, "hand picked yesterday"!
Makes you want a fresh salsa doesn't it???
Keep reading...
But look at these beauties. It's not the neighborhood grocery store produce section.
But if you just want to enjoy the fruits of others labor, plenty of home baked goods for sale. I like to make my own bread, but I was sure tempted by this ladies' Asiago/black Olive loaf.
May as well plan to come hungry. Everyone gets samples of whatever you might like. Breads, fruit, watermelon, even a little wine tasting place.
But again, more than produce. Want to learn to grow tropical orchids? This is the place.
Once a month this seller offers a class on, "How to Grow Orchids at Home". Think this would brighten my kitchen?
But it is of course, all about the produce.
Of course, it could be just a little about the artisan Pasta Seller!
Even Lassie gets a booth to call her own, a table full of specialty dog biscuits.
This guy fires up his own sausages!
Look Ma... OLIVES! Cheap, plentiful and a dozen imported Italian olives!
And what trip for me would be complete without a stop to say Hi to my beloved spice guy?
$1 for a half a cup of any spice you might want!
While I think The KC River Market is pretty special, I would bet that there is a Farmer's Market close to you. They are worth the hunt. A cook is only as good as his ingredients. Fresh, local and cheap... What's not to love? The link above, to Local harvest website offers a terrific service. Just plug in your zip code and the closest market pops up. A quick search for the KC area found over 30 markets. Some are little more than a road side stand, and a couple are large almost River Market quality. The site offers reviews so you know what you are getting into!
I would love to hear about (and read a review) of your next visit to your Farmer's Market. Anyone want to share your hometown gem?
But really, don't you wish you lived in Kansas City???
And what fun we did have. Shopping was indeed a treat. Jackie and I go to the market at least a couple of times a month, so we have a few favorite places. It was exciting to share those with our friends.
But the real fun was spending the day, a little crowded for counterspace (we made 8 dishes), constantly washing dishes, tasting spoons and wine glasses (yeah, a few bottles (bought at the market BTW) were enjoyed before we sat down for lunch.
I have already done separate blog postings on the food we ate. Here's the links...
We started the day with some quick to make snacks...like this one,
Tomato Poppers
Click the blue letters to get to the post (but then you knew that)
Next we ate a few chips...
thick cut potato chips with a wonderful Sheep Cheese dipping sauce
to be exact!
We all really enjoyed a delightful warm
Peach Compote
(Fresh peach Jam) with a loaf of Brioche bread we picked up at the market!
We finally started preparing the side dishes for the meal. With all the extras in this
picnic pasta salad
, it could easily pass for a meal in itself!
A few of the dishes were even grilled (the name of my blog is a Year on the Grill after all). Like this wonderful
Pizza inspired stuffed Pepper
!
Our "Salad" was a
Faux Caprice Salad
made with grape tomatoes and more of that amazing Sheep Cheese!
A trip to the Farmer's market deserves a vegetarian dish. Actually the dish voted most surprisingly GREAT was the
Swiss Chard and Potato Leek Hash
.
And last (and by no means) least was another chance to grill, this
Organic Tri-tip Sirloin, topped with a beautiful Cherry Salsa
!
And the final verdict on all this...
What a fun day. Eaters, cooks and want to be chefs sharing the day, laughing and enjoying the company over food. I will admit to going a bit over the top (Thanks again Foodbuzz). But I highly recommend this activity for readers and their friends. Grab a buddy, hunt down a market, explore the possibilities and start cooking.
This is the stuff friendships (and full bellies) are made of.
And if you like this recipe you will find all my 24X24 recipes on
eRecipecards.com
!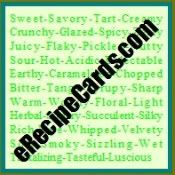 ...