And the snacks continued...
Part 3/recipe 3 of our "Day at the Farmer's market". A full day's worth of fun, from early morning shopping to a full morning's worth of slicing, dicing, sauteing, braising, marinating, grilling and prepping for a meal.
We started the day with snacks.
The Tomato Poppers
were a simple yet tasty way to start the day.
The chips
in the last post took just a bit more work, as they got fried and combined with just an incredible Sheep's Cheese dip. This snack took just a little longer to make, as the peaches are blanched to make peeling easy, then the fruit is gently simmered as the compote needs to break the fruit down before it can be pureed.
First step is to get the peaches ready to simmer. Best technique is to blanch them. Meaning, cut a small X into the fruit, just barely breaking the skin. Pop one in boiling water and count to 15 Mississippi's. Bring them out and immediately pop them into ice water. This cooks the outside peel, and leaves the pulp unheated. The skin is easily removed, it just peels off.
Most recently, I saw this simple technique on Rainey's blog,
THE PROJECT TABLE
. Rainey had gone plum picking and felt the need for jam. Her post on
organic Plum Jam
was inspirational and easily adapted for my new favorite fruit... Missouri Peaches!
Each week, the River mart has several local farmers selling their peaches. freshly picked, they are firm, tasty and just perfect. Raw, cooked in a cobbler or made into fresh jam!
2 cups of Peaches, peeled, seed removed and chopped
1 cup Sugar
1 juice of one lemon
1/2 tsp Nutmeg
Place peaches in pan with lemon juice and summer till fruit is soft... about 5 minutes.
Add sugar and cook an additional 10 minutes
Puree in a blender for just a few seconds to get an even texture. Similar to baby food
We dipped the bread in the warm Compote. Or refrigerate to have a cool jam, perfect for toast!
Our bread was bought at the River Mart at the Bloom Baking Company. Bloom is one of our favorite stops whenever we hit the Farmer's Market. It is one of the permanent businesses set around the perimeter of the farmer's Market. they make a cheese and jalapeño croissant that is wonderful. But today we chose to buy a loaf of Brioche Bread. The eggy, buttery soft texture is perfect for the warm compote dip!
The free samples on the outside and the AMAZING choices for snacks or full loafs makes this a must stop and a must buy for us.
Janet O'Toole, owner and baker make the place informative, attractive and DELICIOUS!
And you will find all these recipes on
eRecipecards.com
!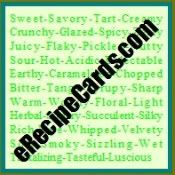 ...
...