And the snacks continued...
Part 2/recipe 2 of our "Day at the Farmer's market". A full day's worth of fun, from early morning shopping to a full morning's worth of slicing, dicing, sauteing, braising, marinating, grilling and prepping for a meal.
We started the day with snacks.
The Tomato Poppers
in my last post were a simple yet tasty way to start the day. These chips took just a bit more work, as they got fried. I also made a seasoning salt to add to the taste.
Here's what we did...
Filled a Cast Iron Skillet with about 1/2 inch of vegetable oil. Preheated the oil over medium high heat. Took a HUGE russet potato (three actually) and sliced them just about an eighth inch thick.
Float the slices in the oil until they turned that golden brown delicious color.
About half we just seasoned with sea salt and pepper.
The other half we seasoned with a mixture of
1 TBS Sea Salt
1 TBS Taco Seasoning
1 TBS Brown Sugar
When you add the sweet taco seasoning on the hot oily potatoes, the sugar melts into the chips, making for a wonderful mixture of heat spice(the taco) and sweet (the brown sugar).
For the dipping sauce, we combined a generous TBS of Greek Yogurt (bought at the AL-HABASHI MART, one of the permanent businesses set up around the perimeter of the Farmer's Market), with a garlic sheep's cheese bought from one of the venders that always sets up inside the market...
The GREEN DIRT FARM
"
Green Dirt Farm
is a women owned and operated small farm dedicated to bringing the best 100% grass-fed lamb and farmstead sheep's milk cheeses to our community.
We believe in the tradition of community-based farms where customers can know how their

food was produced. We are committed to protecting and naturally building the soil at our farm. Our practices help preserve the earth's environment. We do not use synthetic chemicals, hormones or unnecessary antibiotics. Our animals are raised on carefully tended pastures, to provide them with the highest quality nutrition.
Because of our farming practices and philosophies our farm has undergone and passed a strict audit by
the Animal Welfare Approved organization. Animal Welfare Approved farms allow animals to behave naturally and socialize freely. On our farm, you will see animals living comfortably, with plently of room to romp outside, eating the foods that are best for their bodies.
I make a lot of lip service about "going green. It is always fun and inspirational to stop by the stall the farm sets up at the market. Taste a sample and read over the special events they have planned. They open the farm up for "
Cheese Appreciation
" events. Handled similar to a wine tasting (in fact, most offer pairings with wine to make the event even more fun)! Even better, during the summer, every couple of weeks, local chefs come to the farm to prepare gourmet meals...
"
we will sit down at the harvest table to a four-course plated dinner prepared by the chef that features our 100% grass-fed lamb and sheep's milk cheeses. In keeping with our focus on local food culture, other ingredients—such as produce—is sourced from area farmers. Each course will be paired with a carefully selected champagne and sparkling wine or beer. At each course, the chef will discuss the ingredients used and where they came from, and what inspired each dish."
The ladies of the Green Dirt Farm do more than lip service to "going Green". It's a lifestyle, a business philosophy for them, and it was a delicious honor to include the cheese on our menu.
And you will find all these recipes on
eRecipecards.com
!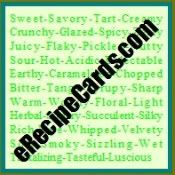 ...
...