Here's even more of our side dishes...
Part 5/recipe 5 of our "Day at the Farmer's market". A full day's worth of fun, from early morning shopping to a full morning's worth of slicing, dicing, sauteing, braising, marinating, grilling and prepping for a meal.
We started the day with snacks.
The Tomato Poppers
were a simple yet tasty way to start the day.
The chips
took just a bit more work, as they got fried and combined with just an incredible Sheep's Cheese dip.
The Peach Compote
took just a little longer to make, as the peaches are blanched to make peeling easy, then the fruit is gently simmered as the compote needs to break the fruit down before it can be pureed.
And so, we started cooking the "real" meal... with side dishes.
The Pasta Salad
(nearly a meal in itself), . Certainly all you would need for lunch, and a beautiful side dish.
Next up is a "Pizza Pepper". This idea came from a fellow grilling enthusiast (when I first met them, they were "just" enthusiasts. Slowly, they are evolving into grilling professionals with several paying gigs as cooks and writers on their site)! Grilling is a family affair with the
GRILLIN FOOLS
, with Dad, Granddad and members of their extended family popping up with ideas. Funny thing about this idea for their
Smoked Stuffed Peppers
... Just a few days ago I made a comment on their site that I was planning to make a few changes to their recipe to make it more of a "pizza". After all, when you see the recipe, if you consider the pepper base as a crust, all it needed was a little marinara sauce and it fit my definition for pizza. Their comment back was that they were trying to get away from the original recipe they were inspired by which was more of a "pizza deal".
Some of us just can't stop mucking about with recipes to make them our own!
Take a look at this side view, and you can see what I did...
A green bell pepper as a base (cut in half, stems, seeds and meat removed)
Line the bottom with Prosciutto ham
add diced pepperoni pieces
add a TBS of cream cheese
add a TBS of fresh made Marinara Sauce
Grill over indirect heat for about 20 minutes. I like my grilled peppers with a little bite to them, so 20 minutes is plenty to heat everything without getting mushy soft peppers.
Top with a piece of Provolone Cheese
Cook for another 10 minutes until the cheese has melted and started to ooze over the sides
And again... with the meat, veggies and cheese, could easily become a weeknight meal or lunch in itself.
As you can see from the photo above, we chose to use this as a side dish for our grilled tri-tip sirloin with Cheery Salsa (recipe coming in just a few more posts (are you reading in order???))
We did make a fresh marinara sauce for this recipe from veggies we picked up at the river market that day...
1 TBS Extra Virgin Olive Oil
4 clove Garlic, smashed and minced
3 pounds ripe Tomatoes (a $1 bag), skins removed
1 tsp sugar
and a few leaves of Basil
2 TBS
"Not your Grandmother's Herbes de Provence"
or, use the herbs you like, thyme, rosemary, lavender, whatever you please. My
"Not your Grandmother's Herbes de Provence"
herb mixture works great, and since I always have a little bag of it handy, easy and fast, and is a ready made batch of the herbs I like.
Removing the skins is an easy thing to do. Get a pot of water boiling, and have a bowl with ice water handy. Cut an X into the top (not the vine end, the other end)just enough to break the skin. Plunge them into the boiling water for only 15 seconds. You want the outside to cook just a shade, but not so hot that the inside starts to cook. Remove and plunge into the ice bath. The skin peals easily now.
Smashing and mincing garlic is just as easy. Take a wide chef's knife, put a garlic clove between the flat of the knife and a cutting board and smash away with the flat of your hand. Then just mince away. Easy and fast!
And now, once all the prep work is done, it is finally time to cook. In a big cast iron skillet, heat the olive oil. Add the minced garlic and sauté for just a few minutes.
While that is working, rough cut the tomatoes into quarters. Be careful and don't cut your hand, but best to quarter the tomatoes over the skillet. Every bit of juice you lose on the cutting board is just a bit less flavor. Also, while you are cutting, remove any hard parts. the stem end, and if the center is not ripe and red, pull it out.
Add a little sugar, add the
"Not your Grandmother's Herbes de Provence"
spices (or your own favorites) and stew away at a gentle simmer. At a simmer, it takes about 45 minutes for the tomatoes to break down properly. BUT, the longer you allow them to simmer, the sweeter the sauce will be. I was doing other things around the house, and let mine cook for an hour and a half. If you have less time, you can cook at a higher heat. But keep an eye on them and stir often so they do not scorch.
And here it is after the hour and a half... All bubbly, sweet and filled with flavors. I moved this in a couple of batches into a food processor and pulsed for just a few times to break it up.
At the last minute, add some fresh minced Basil leaf.
If you want a thin sauce, pulse a lot. If you want a thicker sauce, no real need to pulse at all. Me, i like the smooth even look, texture and taste of a thick but not chunky sauce.
Like This...
And you will find all these recipes on
eRecipecards.com
!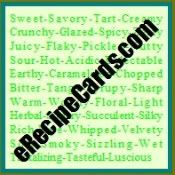 ...