It's the FROZEN ELVIS...

Don't scoff... It's not just wacky Dave slapping bacon on anything that doesn't move. This time, it's wacky MATT ARMENDARIZ, author of "On a Stick", a new book FILLED with more than 80 ideas for food served... Well, you guessed it.

As a novelty book, "On a Stick stands out as a great idea, completely covered. There is an inspiring introduction, taking us back to the fun foods of our childhood and State Fairs and the history of food served ala stick. The intro continues with examples of sticks and skewers (really, much more interesting than it sounds, who knew there were so many types). There are examples of condiments... food on sticks begs for dippping sauces). And finally, we get to the food.
From Beef to Banana Leaves... Chicken Satay to Fried Pickles, salads to desserts, this book has everything you could want for inspiration. The book is hypnotic, nearly impossible to put down, as each page is more fun to read than the next.
And big props to the author's choices for amazing photos!
But I really LOVED his "FROZEN ELVIS".
Not terribly difficult, takes a few hours of freezing time and just one simple hint to make these...
First the hint... Freeze the banana first. At least a couple of hours. Makes the chocolate stick and harden fast. Other than that, chop the nuts and fry the bacon crisp. Melt some chocolate (I added just a touch of cream to make it.... creamy).
And then it's all logical...
Elvis and any State Fair in the country would LOVE these...
Now you old HOUND DOG... Meet me at the Tilt-A-Whirl!
Fair disclosure, MATT ARMENDARIZ sent me a copy f the book for review. I was thrilled. Cannot tell you how much fun the book was to read. And once the novelty wore off, I certainly noticed the quality of the writing, photos (important for sure), but also the amazing recipe ideas. Give this book a try!
And did you notice something at the top middle right column...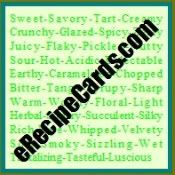 And where there is a logo, there is a button! If you like the idea of
eRecipecards.com
, feel free to help spread the word.
And if you contribute to eRecipeCards.com (and all of you bloggers should, it's a place to see and be seen and a place to build an electronic recipe box of recipes you might want to try)... but I digress... If you contribute to eRecipeCards.com and would like a "personal button" that directs your readers to a page on eRecipeCards.com that shows only your recipes (with links to the home page), drop me a note.
Here's how the personal button works...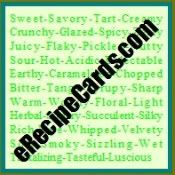 If you click the first button above, it takes you to the home page for eRecipeCards.com.
If you click the second button (sure, it looks the same, but it works different... go ahead and try it...
It's all coming together, a few cosmetic changes coming, I will be making the BIG push next week for members to start, but would just LOVE for my regular readers/friends to get in the habit now of daily submitting their newest posts (once you are signed on and get used to the setup, it takes only a couple of minutes to submit).
And a BIG thanks to HEATHER,
Girlichef
, who did a fantastic tutorial on how to create a button. If you have a logo or favorite original photo that identifies your blog, why not make a button. Heather shows the easy painless way to write "code" to make it do what you want. You can find her tutorial by clicking
HERE
.
You are the best (but I've been saying that for years)!
Go ahead, click all those different buttons, see the difference, code can be fun!