Or, I could easily have called this "Peasant Cantaloupe and Prosciutto"
But what it really is is just cut up cantaloupe (love it), and some roughly torn pieces of prosciutto ham (another favorite).
It's a classic combination, sweet juicy cantaloupe, paired with the salty earthiness of the specialty ham. A taste combination that shows up on many fancy dancy (read expensive) appetizer trays. Or, on rare occasions, on my breakfast plate.
You see, I happen to have two slices of prosciutto left from my weekend marathon cooking session. I was debating what to do with them when I just decided I needed a treat.
Besides, I am in "clean out the fridge mode".
What are your plans for July 4th???
Me, Jackie and I are off to the wilds of the Badlands, the Black Hills of South Dakota, poker in Deadwood, Hiking through the hills, visiting the shrine to 4 of our 6 greatest Presidents (Mount Rushmore), believe it or not, we have friends that think it is a good idea to strap my fat ass to a zip line and send me through the pine trees (there's an image that will haunt you late at night).

So, no matter how good the ingredients are, no matter what beautiful presentations I could come up with for them...
Best to use them up before the trip. I deserve a treat anyway!
And, as always, you can find this and several of my favorites at
eRecipeCards.com
...
Hit the button and come take a look!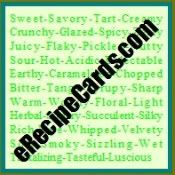 ...