And now, it's time to move on to the side dishes...
Part 4/recipe 4 of our "Day at the Farmer's market". A full day's worth of fun, from early morning shopping to a full morning's worth of slicing, dicing, sauteing, braising, marinating, grilling and prepping for a meal.
We started the day with snacks.
The Tomato Poppers
were a simple yet tasty way to start the day.
The chips
took just a bit more work, as they got fried and combined with just an incredible Sheep's Cheese dip.
The Peach Compote
took just a little longer to make, as the peaches are blanched to make peeling easy, then the fruit is gently simmered as the compote needs to break the fruit down before it can be pureed.
And so, it's time to start the "real" meal... with side dishes. Although honestly, to call this a side dish is a bit deceiving. Loaded with meats, a fresh gluten free pasta (one of our friends prefers low to no glutens in her meal), Italian pickled vegetables, olives and cheese with a fresh made lemon vinaigrette dressing; this could easily be a main course any night of the week. Certainly all you would need for lunch.
This recipe came from Mary, at
One Perfect Bite
. Mary's blog is among my absolute favorites. Any day I expect to hear that she has a book deal or is someway making that next step beyond "just" a food blogger. Always a fun read, with some story behind her recipes, but also challenging and informative with new ideas and techniques. If you haven't visited Mary, take a look through her archives so you too can say you knew her when...
Picnic Pasta Salad Adapted from the kitchen of One Perfect Bite courtesy of Michele Larson and Taste of HomeMagazine

Ingredients:
8 ounces Gluten Free Pasta
1 jar (16 ounces) giardiniera
1/2 pound fresh broccoli florets
1/4 pound cubed fresh made mozzarella cheese
1/4 pound hard salami, sliced
1 package (3-1/2 ounces) cut into dime size pieces
1 large green pepper, cut into chunks
1 pitted ripe olives

Dressing
1/4 cup olive oil
2 tablespoons red wine vinegar
1 tablespoons lemon juice
1/2 teaspoon Italian seasoning
1/2 teaspoon coarsely ground pepper
1/4 teaspoon salt

Directions:
1) Cook pasta according to package directions.
2) Meanwhile, drain giardiniera, reserving 1/3 cup liquid. Combine giardiniera, broccoli, mozzarella, salami, pepperoni, green pepper and olives in a large bowl.
3) Drain pasta and rinse in cold water; stir into meat mixture.
4) Whisk oil, vinegar, lemon juice, Italian seasoning, pepper, salt and reserved giardiniera liquid. Pour over salad and toss to coat. Refrigerate until serving.
I was able to make a few changes in Mary's recipe. I went shopping at a WONDERFUL Italian Grocery and deli. Mike Carollo's ITALIAN SPECIALITA d'ITALIA Grocery and Deli, another of the permanent businesses surrounding the stalls of the farmer's market is simply amazing.
There are barrels filled with varieties of imported Olives, a cheese and meat counter filled with specialty salami, cheese and the like. LOTS of imported canned and jarred goods fill the shelves. Homemade Italian pastries and snacks tempt you at the check out station.
Oh, and Italian gelato is a wonderful treat on those hot muggy days in August!
Such a sense of the old world.
And such a wonderful place to shop for this easy to make dish! Thanks again Mary!
And you will find all these recipes on
eRecipecards.com
!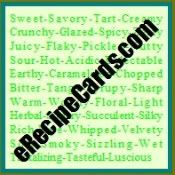 ...