Good morning my friends. Did you happen to catch yesterday's post???
I was selected to take part in the Foodbuzz 24X24 project (24 bloggers, making 24 meals, all in 24 hours)! I chose to spend the day with friends, early morning shopping at the Farmer's Market, several hours of cooking to make a wonderful late lunch! 8 dishes were made, snacks, side dishes and a couple of amazing main courses (like this Tri-tip Sirloin with a Cheery Salsa). If you missed it, I did a write up of all the recipes and a photo tour of the KC Market... Click
HERE
to see that post.
Well, you can see from that post I had a refrigerator FULL of leftovers. Certainly not a terrible thing, since it gives you a chance to be a little creative, add a thing or two and come up with something non-repetitive...
One of the dishes we made was a
Swiss Chard, Leeks and Potato Hash
. I chose that as a vegetarian main course for the event and it was a winner! But with everything else we were serving, we did have lots left over.
Here's how I made breakfast from the leftovers...
Sadly, well, sad for the leftovers, we picked just about all the Swiss chard out of the original dish the day before. But that's ok, I had plenty of potatoes left, added some mixed vegetables and then Meat (vegetarian, no matter how good is a passing fancy for me).
I plopped all the hash leftovers in an oven safe frying pan. I made 4 little wells (meal for two), and lined those wells with some leftover imported dry cured prosciutto ham. Add just a tbs of butter milk in each well, add an egg and top with a slice of Swiss cheese.
bake in the oven, 350 degrees until the egg stops jiggling when you move the pan (about 20 minutes).
Add some fresh tomato slices, toast with a little fresh made
Peach compote
(one of the snacks we made on Saturday)...
And that's Breakfast!
And if you like this recipe you will find all my 24X24 recipes on
eRecipecards.com
!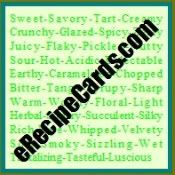 ...