Insalata Caprese (Literally Salad in the style of Capri) is a simple salad from the Italian region of Campania, made of fresh buffalo mozzarella, tomatoes and basil, seasoned with salt, pepper and olive oil. In Italy, unlike most salads, it is usually served as an antipasto (starter), and not as a side dish.
While the origins are unknown, and not directly connected to the isle of capri, it became internationally popular as a favorite of King Farouk of Egypt.
But it is smostly popular among Farmer's Market shoppers...
Ready for the recipe... Come on, no recipe needed. It's just cheese and tomatoes...
Slice a few tomatoes...
And once you start slicing, add a little sliced fresh buffalo mozzarella. Not meaning to brag, but our Farmer's market has a permanent building with imported Italian products as a specialty. Olives and oils to die for, and fresh REAL Buffalo Mozzarella. If all you know is the bag of shredded stuff, do yourself a HUGE favor and hunt this cheese down. made with Buffalo Milk, instead of cow or goat milk. Comes wet, but is so creamy and delicious.
Drizzle a little Olive Oil. Highest quality you can get, only use a teaspoon, but this is one of the few recipes that top quality (read expensive) really does matter.
Salt and pepper to taste and top with a basil leaf.
And if you like, there is a fancy dancy technique to make your basil even more pretty...
It's called Chiffonade...
First, as my friend Willy would advise, grow your own! Or, buy some fresh leaves.
Select some of the larger ones.
Stack them and roll em (back to Mr. Nelson again) tight.
Slice into thin strips
And sprinkle these on the tomato, then add the cheese and finally an uncut leaf as an accent.
And you will find this very simple but classically tasty recipe on
eRecipecards.com
!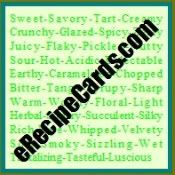 ...