And here we go for our day at the Farmer's Market.
The idea was to make an event from the trip. Not just to shop and come home and make a salad, but to actually plan for a full morning's worth of cooking in order to make a spectacular lunch.
But all that work calls for a few snacks to keep us going.
I first saw this a couple of weeks ago on Sam's blog,
MY CAROLINA KITCHEN
. I knew it would only be a matter of time before I gave it a shot. Impossibly simple, but perfect for the project...
Just buy a batch of those multi-colored, multi-shaped little beauties, heirloom grape tomatoes.
Bring em home, wash and remove any of the remaining stems and foliage that might still be there.
Leave them wet.
Pop 'em in a small paper bag (still wet). Add a tsp of Dill and a tsp chives and a tsp of course grind sea salt
Shake shake shake and you are done!
After spending over an hour pouring over all that fresh beautiful produce, these were a great first snack course for the day. Really set the mood for local, fresh and fun during our FOODBUZZ 24X24 sponsored event...
A Day at the Farmer's Market!
And if you like this recipe you will find all my 24X24 recipes on
eRecipecards.com
!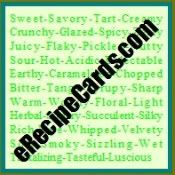 ...